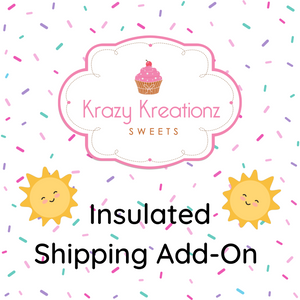 Krazy Kreationz Sweets
Insulated Shipping Add On
Regular price
$3.00
$0.00
Unit price
per
Listing is for 1 Warm Weather Insulated Shipping Upgrade Charge

We highly recommend purchasing this add on during the warm spring and summer months (May- September) when temperatures are 60 and higher in your area.

This add on includes insulated shipping material to keep your cookies, sweet treats, & Chocolate safe from melting and damage during shipping

Included is insulated packaging to keep the cool in an heat out along with cold packs to help regulate the temperature of the package.

*** Our Edible Image Insulated Mailer Add-On can only be added to an edible image order. This add on only includes a stay cool mailer (envelope), it does not include an insulated box, insulated packaging or ice packs. Not compatible with chocolate or sweet treat order.

4 sizes available -

Small includes 1 cold pack and insulated packaging - Small Packages Up to 1/2 dozen Cake Pops or Cakesicles

Medium includes 2 cold packs and insulated packaging - For Medium Packages including up to 1-2 dozen

Large includes 3 cold packs and insulated packaging - For Large Packages including over 2 dozen and up

Edible Image Insulated Mailing - Includes a Stay Cool Insulated Mailer- For Edible Images Only

Additional cold packs can be added for larger packages **(additional charges apply)

Please feel free to contact us if you need help choosing a add-on size or if you have any questions.
---
Share this Product
---